The Yellow Ribbon: of Undying Love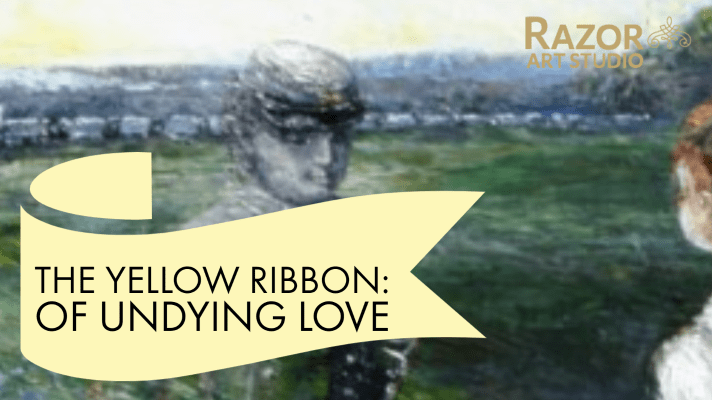 With Valentines Day right around the corner, I thought now would be a good time to talk about one of my works that is the embodiment of eternal love.
The scene is set in the south during the Civil War. A train can be seen rolling across the background and a lavish estate house stands to the right of the piece amidst the lush greenery. To the left a young tree spreads its newly budded leaves towards the sky. A heart and initials are carved into the trunk and just above it rests a delicate yellow ribbon carefully tied around the thin trunk.
Yet despite the name, The Yellow Ribbon, the focus of the piece falls on the two figures centered in the painting. A young woman dressed in white stands and watches the train. She is hoping that the train in the distance is the one finally bringing her love back home to her. What she doesn't see is her lover's apparition before her, ghostly and translucent against the green landscape.
The Yellow Ribbon is story of beauty, love, anticipation, and loss. The area the figures stand on is a sentimental spot where the two used to picnic together, perhaps it is where the young man proposed. The woman has tied the ribbon around the tree as a symbol of her love and a sign that she loves him still. Yet despite a horrific and gruesome war, our hero returns to honor their love, because not even death could keep him away from his one true love.
The Yellow Ribbon is painted in oil and acrylic on an 18x24 canvas. This painting was inspired by the styles of pre-Raphaelite artists as well as the landscapes of Winslow Homer. While the original has sold, prints are available for purchase online with a wide variety of finishes and framing options.
| | |
| --- | --- |
| | Get every update, posting, and news release delivered straight to your mailbox. Subscribe today so you won't miss a thing. I value your privacy and would never give your information away so you can subscribe with confidence. |
Stay Connected. Follow me on Social Media.