Featured Art: The Fountain

The Fountain at Marietta Square's Glover Park is a central location for residents and guest alike to bask in the beauty of Downtown Marietta. The 3,000-pound cast iron fountain was the result of a $35,000 donation made by local politician Harold Willingham. Created by Robinson Iron of Alexander City, Alabama, the fountain is the apple of the manufacturer's eye as stated by the founder's grandson, Luke Robinson, "it's one of the fountains we look at and say it's one of our most famous fountains." Since the water feature's creation, the company has reported selling 15-20 "Marietta" models, but only one original stands in the heart of Marietta.
Marietta Square was also the home of 2 Rules Fine Art, a small local gallery that was once home to many of my works. While working on The Fountain, the unfinished image hung in the gallery's window and changed every week as I continued to master the piece. I worked diligently on the piece and as I stood in the square developing the painting, I began to attract attention and the painting was ultimately sold before the painting was completed. I am happy to report that once completed the painting was sent to live in a home cherished by a couple who once were engaged by the fountain's glistening waters.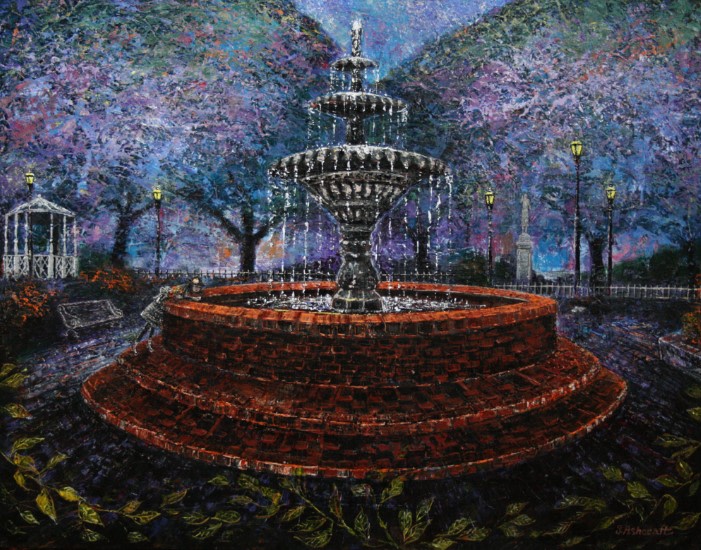 The painting itself features the famed fountain against the cool vision of trees in full bloom. The park's gazebo resides in the background and by the fountain a young girl drops a coin into the feature's babbling waters and whispers a dream into the air.
While the painting is no longer in my possession, and 2 Rules sadly closed its doors, the fountain still stands proudly in the center of the park square. With the tension of COVID-19 still in the air, visits to the park have been few and far between but I can't wait for the day I can go back out and paint there again.
The Fountain prints are still available for sale here where you can view the painting in custom framing and in your own home thanks to my site's handy dandy augmented reality technology. Take a look. You'll be happy you did.
| | |
| --- | --- |
| | Get every update, posting, and news release delivered straight to your mailbox. Subscribe today so you won't miss a thing. I value your privacy and would never give your information away so you can subscribe with confidence. |
Stay Connected. Follow me on Social Media.