Exercises to get the Creative Juices Flowing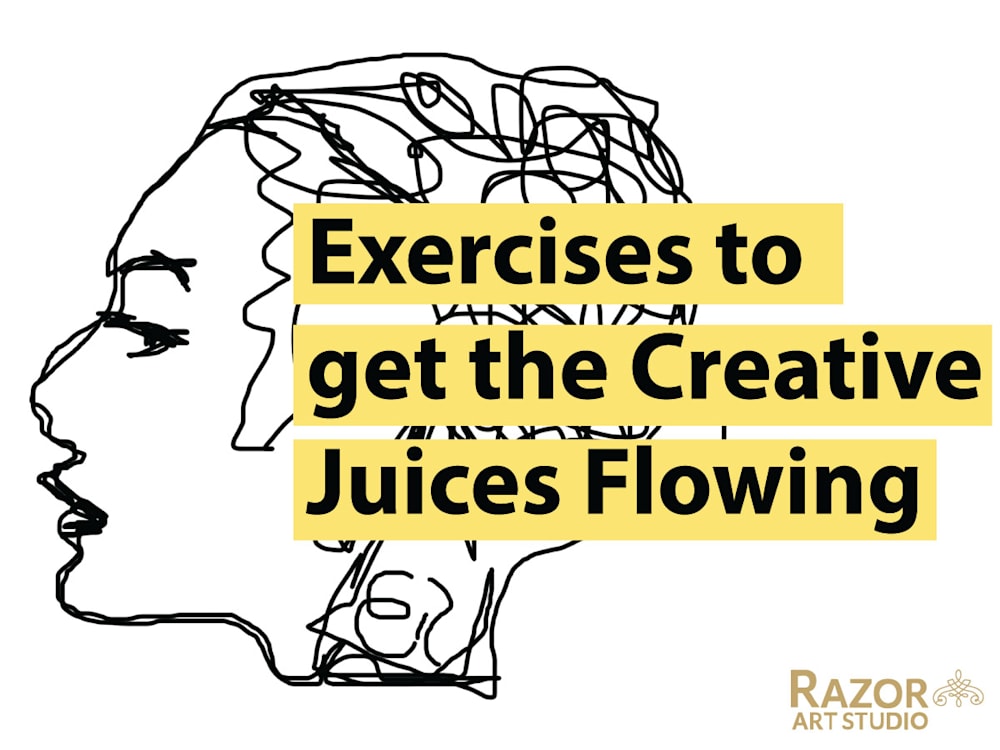 As an artist one of the most frustrating things you can experience is the inability to come up with new ideas. That's why this month I'll be focusing on ways you can get your creative juices flowing. From visualization to picture consequences, there's a variety of activities you can do to boost your creativity and get back to the business of making art ASAP.
Practice Visualization
While meditation is a great way to calm the mind, with the overall intent to clear the mind can be a bit counterproductive to trying to think of new ideas. Enter visualization. Visualizing uses meditative techniques to focus on and develop new ideas. A quick YouTube search will provide you with a wealth of guided meditations designed to help you channel your creative energies. Go ahead, check it out. Set aside some time each day and find the ones that work for you.
Experience Something New
A change of scenery or new activities can do wonders to boosting your creativity. Go for a walk in a different town square, or take a hike on a new trail. Sit in a new coffee shop or see a new play or movie. Listening to different music genres can also inspire new ways of thinking and give help you find new ideas to bring to the canvas. The idea is simple, try something new and think something new. Worst case scenario, you've done something new and adventurous and will no doubt have stories to tell later.
Free Sketch
Not everything you create has to be a masterpiece, but sometimes just scribbling something down can be a powerful way to get the ideas flowing. Draw anything you want. You can sketch something you see in front of you, or in your head, or just go to town and play with lines, contours, and shading. Don't be afraid to add colors and try new mediums. This is an anything goes kind of activity and I'm sure you'll have fun in the process.
Set Limitations
I know using limitations can seem, well, limited, but it can prove to be a useful tool for creativity. Similar to free sketch, you set out to get something on paper. But, the major difference is instead of doodling whatever comes to mind you set a limitation that forces you to think creatively. You can try things like, never lift your pen or pencil from the paper, or use only shades of one color. Try working with a coloring book and adding onto the illustrations, or look for "complete this drawing" exercises that offer visual prompts for your sketches.
Picture Consequences and the Exquisite Corpse
Consequences is an old parlor game in which players collaborate on a creating a new work. Participants contribute to their work based on a prompt. When they are complete, they cover their work and pass it to the next player who will continue with their own ideas. Although the game started as a literary game, the game eventually evolved into pictures. Thus the Exquisite Corpse was born. Popularized by surrealist artists, the game earned its name from the phrase "The exquisite corpse shall drink the new wine" said by a group of artists during their first time playing.
| | |
| --- | --- |
| | Get every update, posting, and news release delivered straight to your mailbox. Subscribe today so you won't miss a thing. I value your privacy and would never give your information away so you can subscribe with confidence. |
Stay Connected. Follow me on Social Media.